3 Myths That May Be Holding You Back From Buying A Home
Are you Being Held Back?
There are many misconceptions when it comes to buying a home. Whether you are doing it alone or with a partner, the first step is to get the facts. From finding out your credit score to choosing the right loan program, it can't be denied -- this is one big decision. There are many things to fret about but these 3 myths shouldn't be on the list.
Myth #1: Mortgage Rates are Getting Too High
While it's true that rates are higher right now than they were a couple years ago, it is also true that mortgage rates are constantly fluctuating. If buying a home right now is what aligns with your long term goals, then now is the right time for you. If you hesitate, you could end up missing out on a great rate if they spike by even a quarter.
According to Credit.com - Historically, interest rates have been much higher—in the 70's and 80's, they were at least twice as high as they are now, and in 1981, rates peaked at over 18%. Following the data, rates are quite favorable right now and there's no reason to put off homeownership just because rates go up a quarter or even half a percent.
Myth #2: "I Need a 20% Down Payment"
Most buyers overestimate how much is needed for a down payment. That is probably why this is the biggest myth among first-time home-buyers. While it's better to have a larger down payment, it is not necessary. The time you spend saving for the down payment is also the time you're not building equity and putting your money to work in a home. And if your home value increases over the years, you're building equity even faster. So in some circumstances, it can actually be a better move financially to buy as soon you are able, without waiting to have the 20% of your purchase value.
There are plenty of programs available that allow for a lower down payment budget. For example, those who qualify for an FHA loan can pay as little as 3.5% down, while VA loans allow as little as 0% down for a mortgage.
Myth #3: You Need a Perfect Credit Score
The average American credit score is somewhere around 680. Still, most Americans believe a perfect credit score is over 780, and therefore they need that or higher to buy a home.
However, Ellie Mae's 2018 Insight Report which focuses on recently closed (approved) loans shows that 52.7% of approved mortgages had a credit score of 600-749.
Even if you have a few dings on your credit report, you can still own a home. If you are confused about where you stand with your credit and have questions regarding applying for a mortgage, you should seek homeownership coaching and education.
As you can see, 52.7% of approved mortgages had a credit score of 600-749.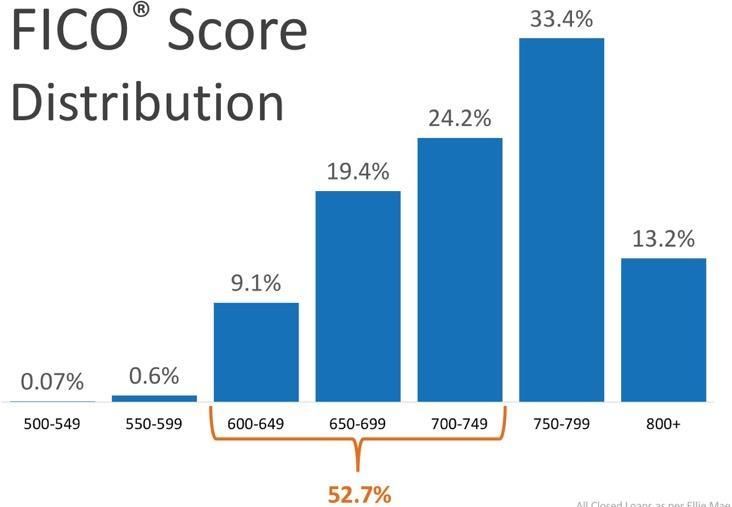 THE BOTTOM LINE
Whether buying your first home or moving up to your dream home, understanding your options will make the mortgage process easier. Your dream home may already be within your reach. Ask the questions you need to know, now.