Bank of Mom & Dad – Strategies to Help Your Kids Buy a Home
You've heard the saying "Cash is King". That is most definitely playing out to be the case in today's housing market. In fact, in the last two years the number of homes selling to cash investors in Cobb County has nearly doubled.
What if you don't have a big stash of cash under your mattress? How are first time homebuyers competing with huge corporations and all cash small investors when buying entry level homes?
Historically, Baby Boomers have a disproportionate share of this country's wealth. To that vain, many of them are trying to help their children/family buy a house that they otherwise cannot afford.
We are also seeing this in regard to finding a way to "pay cash" in a competing offer situation.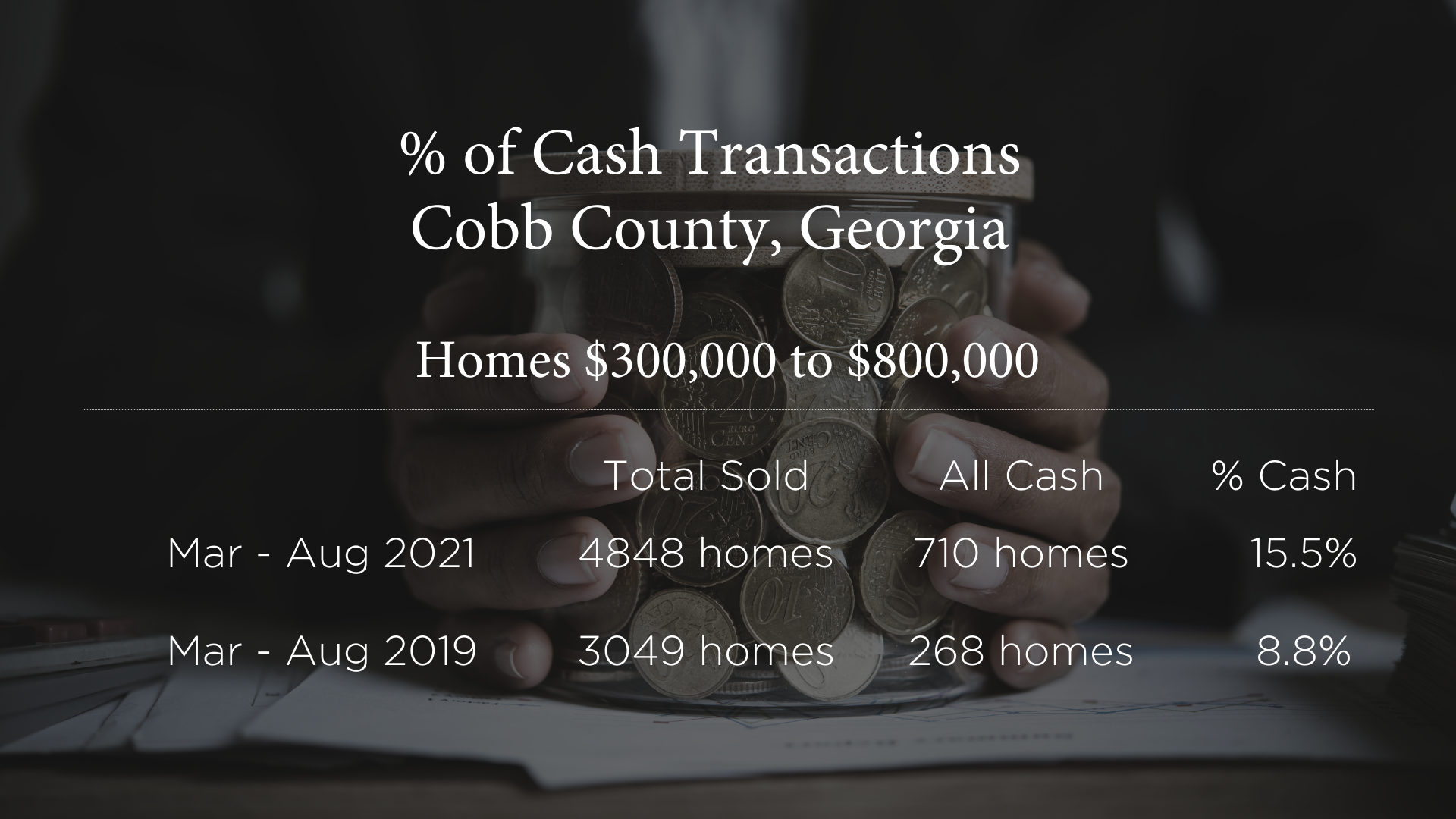 In the last month I have listed and sold two homes that were priced below $300k. In both cases, my sellers had over 20 offers to choose from. About 1 out of every 4 offers were cash offers. Many from big institutional investors or from local cash investors.
The other buyers where private individuals who were hard working Americans looking for have a safe place for their family to live out the American dream of home ownership
For my clients, the sellers, they really would have preferred to sell to a "real person" instead of a corporation. But in the end the lure of the all-cash, no strings attached offer was just too tasty to ignore.
And that is why more and more parents are stepping in to help their family or kids get a home.
There are two common strategies we are seeing today.
#1 Gift the Money At Closing
Likely the most known option, this gets the job done. You will wire the money to the closing attorney in time for closing, and the settlement statement reflects this as a credit to the buyer
Pros
This is an easy to do and no strings attached option. A lender will require the "gift" be reflected on the settlement statement and a "gift letter" will be prepared and signed for the closing.
Cons
While this is an easy approach to helping your family, it has a few setbacks.
First, the lender has to APPROVE the buyer considering that they may be getting a "gift" of money.
Secondly, if desired, the loan can be forgiven annually up to the maximum gift allowed by the IRS (currently $15,000 per person) while avoiding gift taxes. For example, if the parents provide the loan they can gift $30,000 annually, and if the child is married that amount goes up to as much as $60,000.
Third, if your child is sued or gets a divorce, that equity is subject to that lien.
When to Use
We recommend offering a gift of cash if the amount is less than $20,000 to $30,000. Of course, it is important to consult your tax professional before making any decisions.
As the amount of the gift gets higher, I would recommend treating the gift as a loan.
#2 Give the Money As a Loan
Last month, I was working with Luke, a young man who had just graduated from college and was looking for a small townhome near his new job. To buy on his own Luke would have needed a loan and he knew that to buy a $200k townhome he would be at a real disadvantage because of the cash investors he would be competing with.
Luckily, Luke's parents have experience in real estate investing and wanted to give their son the opportunity to become a homeowner and all the financial rewards that affords.
So, they were able to provide Luke with a mortgage on the home and thus Luke's offer was considered CASH and he was able to buy the perfect home.
You will start by asking your tax professional for AFR interest rates to prevent gift taxes.
Pros
The lender (aka Mom & Dad) will have options to gift the equity over time, while still allowing their child to buy now.
The loan is secured by the property. The note and the security deed will be signed at closing.
The child is the owner of the home and will benefit from equity appreciation and taking care of his asset.
Kids can deduct the mortgage interest.
Bottom Line
If you are a parent or grandparent looking to give your family the opportunity to enter into the joys of home ownership, a loan or a gift of money may be just what they need to get that done. Contact us today for more details on how we can help make that dream come true.